How to make PVC Patches: A step by step guide
PVC patches are a modern replacement for traditional patches that are attached to goods including clothes, accessories, uniforms, and flags. These trendy patches will help you up your style game, boost morale, add originality to your accessories, and build your brand.
PVC (Polyvinyl Chloride) is a synthetic plastic polymer. PVC patches are durable, easy to clean, flexible, water proof and light-weight. PVC patches are a cool option for all kinds of uses like morale, tactical, airsoft or even business and promotional logos. Manufactured from flexible material which feels and bends like rubber, the look of your custom pvc patches is only limited by your imagination.
If PVC patches interest you for your patch project, read below to learn about the process by which they are manufactured and delivered to you.
You design your unique PVC patch
PVC patches can be customized in a variety of shapes, sizes, colors, and dimensions, depending on your requirements. Before ordering your custom PVC patches, you must first design the patch. The following factors are taken into consideration when designing a PVC patch:
Shape: The patch could be rectangular, round, or can be any kind of shape.
2D vs. 3D: While the 2D design is relatively flat, a 3D design has a more sculpted look. Learn more about the difference between 2D and 3D.
Size: PVC patches can range from 0.5 inches to over 15 inches. However, round patches are generally 3 – 3.5 inches, while standard flag patches are around 3 x 2 inches in size, but there are no limits.
Colors and borders: A custom PVC patch can be made in a number of different colors and border styles.
Each color change on the design shall be solid, without any gradients.
In addition to creating a design, you can also choose a backing for the patches. PVC patch backings are what allow you to attach the patches to your products. Backing options include:
Sew-on – Plain back with a sewing channel.
Adhesive backing
Velcro backing
Magnetic backing
Button loop
Our PVC patches are highly customizable, and can also include cool features such as glow in the dark effect, button loops etc.
You request a quote via our website
Once you have created a design and specified preferences, you can get a free quote from us either on email, phone or from the live chat function.. Quote requests typically include the artwork as you envision it, its size, the quantity required, and the backing required.
You approve the PVC patch design
We will then get started on generating a digital sample of the design, and send you the PVC patch mock-up within 24 hours. Our mock-up will be based on your requirements and specifications.
We offer unlimited revisions until the artwork is exactly what you want. After receiving and approving the mock-up, you can proceed to place your order.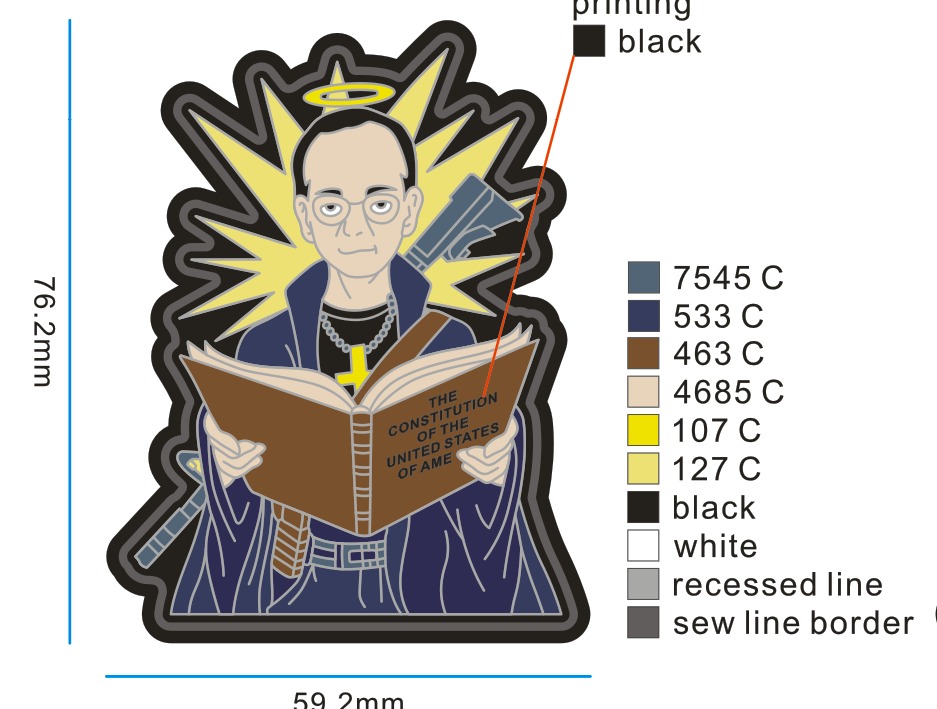 A metal mold is engraved
Once the artwork is approved and the order is placed, we will create a customized metal mold for your PVC patches. The metal mold is design on CAD software and engraved via a CNC engraving machine. As PVC patches are created according to the design provided and agreed upon by the respective customers, each design requires a separate metal mold. Once the mold is made it is further smoothed and polished with a special chemical so that the patches come out smooth, without any cracks or grains.
Liquid PVC is dispensed into mold
With the metal mold ready, the next step is to pour liquid PVC into the mold.
In the first step, the first layer of the design is dispensed in to the mold, and baked to dry it off. Once all the layers have been injected and baked the base layer is finally poured and baked to dry. The baking process of the PVC allows more layers to be added and prevents the mixing of different colors of the liquid.
The mold is baked so that the PVC liquid can dry and become solid.
After the baking process is complete, the excess PVC that exceeds the mold can be trimmed off. The trimming process ensures that your patches are neat and well-shaped.
The backing is applied to the patches
The last stage of the PVC patch manufacturing process is applying the backing. The backing is the material that allows PVC patches to attach to various products and apparel. This process is totally manual and requires human resource.
The backing applied to your custom-ordered PVC patches will vary. While most clients prefer velcro backing, many others prefer adhesive backings.
The type of backing you should choose depends on how you intend to use your patches. For example, if you intend to use your patch only once, adhesive backing would work for you. However, if you plan on fixing and removing your patches often, most customers choose to customize their pvc patches with velcro backing as it's convenient and easy to take off and stick it back again.
View a sample of your custom PVC patches
Because we only accept custom orders of 25 patches or more, we want you to be completely satisfied with your patch before we produce it in bulk.
If you like the sample, we will start the mass production right away.
Receive your custom PVC patches
It will take 12 days for your PVC patches to be mass-produced. Once that is done, you can look forward to receiving your much-awaited patches in just a few days, with absolutely free shipping!
Since the introduction of PVC patches, embroidered patches have become a thing of the past. Not only are PVC patches more long-lasting, but they are also waterproof and easy to clean. Although custom PVC patches initially cost more than embroidered patches, their longevity and durability ensure that you save money in the long run.
Our custom PVC patches are made personally for you. We collaborate with you to determine what you want and work hard to give you just that. Once you sign up for an order with us, we provide project consultancy whenever you need it. We pride ourselves on our customer service and provide a professional experience regardless of your order size.
Furthermore, we do not require payment until and unless you are satisfied with the artwork and digital sample of your PVC patch.
If you find that you could use PVC patches, we would love to hear from you and address your queries. We are sure that our carefully crafted custom PVC patches will satisfy your requirements.